Welcome To PartnersHealth
PartnersHealth LLP was formed on 2nd October 2015 by the GP Partners of the General Practices in Rushcliffe in recognition and response to the changing NHS landscape. It is constituted as a membership organisation, a partnership of partnerships.
By providing a different and collaborative local response, we will adapt and transform general practice to create a sustainable platform for the future.
We will enhance individual practices business resilience, develop standardised processes, reducing variation and increasing quality and patient engagement leading to enhanced delivery and experience of care.
PartnersHealth is the agent of Rushcliffe Primary Care Network providing an opportunity for PartnersHealth and General Practice to be at the forefront of leading and shaping system transformation locally
Our Vision & Values
​Our vision is to continue to care for our patients and our community by creating a sustainable provider of modern general practice. We are committed to Living Life Better for and on behalf of our patients, our colleagues and the communities we serve.
Three values are at the core of who we are and how we act: courage, creativity and commitment.
Rushcliffe Primary Care Network
A key part of the NHS Long Term Plan is to develop Primary Care Networks (PCNs). The policy outlines how practices will work together describing a five year transformation for change and sustainability, a response to the workforce challenge and the voice of General Practice shaping what the system needs to do to improve patient outcomes.
In Rushcliffe, all 12 practices have come together to form Rushcliffe PCN represented by six Clinical Directors.
PartnersHealth is a non-core partner within the PCN and is the employer for the additional roles staff.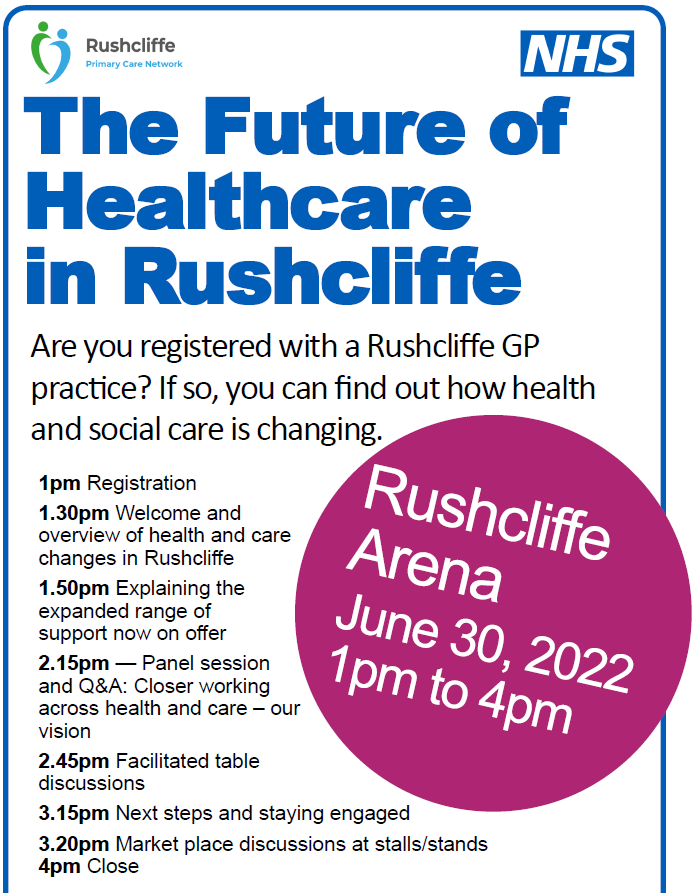 To register for the Future of Healthcare in Rushcliffe event - click on the link
If you wish to view the presentation from The Future of Healthcare in West Bridgford event which took place on 27th April 2022 - please click on the link below:
Our Objective
Our patients are at the heart of what we do. Their needs and their best interests are in the forefront of all our considerations. In order to serve these needs we have to be able to care and to be committed to caring for ourselves.
The prime objective for all within PartnersHealth is:-
'Caring for our patients and our community by creating a sustainable provider of modern general practice.'
Contact Us
PartnersHealth
Cotgrave Surgery
The Cotgrave Hub
Rivermead
Cotgrave
Nottingham
NG12 3UQ
0115 8837905